Credit where it's due dept.: This article was inspired by my fellow kibbitzer d. Galloway's retrospective on The Incredible Hulk, which you can find elsewhere in this forum. Thanks, d!

That said, this is a matter that has been bugging me for a while: what is wrong with Wonder Woman?
A movie based on her has been in production for years- but it's still not ready, mainly because of "script problems." Which made me wonder what those problems could be. Is it with her origins? That in turn led me to think about WW's origin- and then I realized how little the general public (as opposed to fans like me) actually know about the character.
As most of you probably know, she's one of the most famous fictional superheroes, in fact, probably THE most famous female superhero of all time (though not necessarily the most famous female character; Xena or Buffy are probably better known today, but neither of them are (strictly speaking) superheroes.) And yet, despite being a contemporary of heroes like Superman and Batman, she's just not as well known (quick: can you describe her origin? Her powers? Her enemies? etc.? Thought so.) This despite her being around for over 60 years, having appeared in her own TV show and various cartoons, and her costume being sold in costume shops around the world. Even in the comics, she has undergone some rather odd changes over the years, as if the writers just don't seem to know what to do with her. Why is that? Let's look at the various versions of the character, and see if we can find a clue.
First, we need to determine which versions we'll cover. I'm only going to cover the ones who have starred in their own series, not EVERY WW version there has ever been- so no Evil Duplicates, parodies, or anything like that. For this article's purposes, we'll cover:
The Original Wonder Woman from the comics, also known as the "Golden Age" Wonder Woman, and also as the "Earth-2" WW (I'll explain what these unusual terms mean soon.)

The "Silver Age" or "Earth 1" WW;

The TV show Wonder Woman;

The "Post-Crisis" Wonder Woman (again, I'll explain the term later)

The cartoon WW (mostly from the Super Friends and Justice League cartoons.)
PART ONE: THE ORIGINAL WONDER WOMAN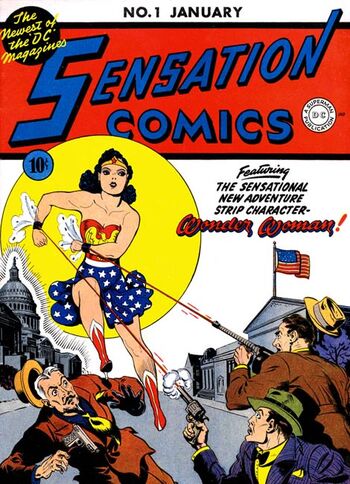 To be honest, I don't know that much about this version, because she starred in comics from before I was born, and was semi-retired by the time I discovered comics. Worse, there is some confusion as to exactly when the "Golden Age" Wonder Woman's adventures ended and the "Silver Age" ones begin; this is because WW's comic has been in publication, uninterrupted (except shortly during the '80s) since 1941- making her the only comic book hero (besides Superman and Batman) to have such a long run. The rest of DC comics' superheroes were canceled in the late '40s, with some being revived -in new, unrelated versions- during the late 50s. To distinguish between versions, fans have taken to refer to the the periods before and after the cancellations as "Golden Age" and "Silver Ages' respectively. Originally, the new versions of the characters were simply assumed to replace the old ones, but it was later decided that all of them existed in the SAME universe- only on separate versions of Earth, that were invisible to each other (what is known as "Parallel Earths" in Science Fiction.) Thus, it was stated that the Golden Age heroes existed on "Earth-2" while the new heroes existed on "Earth-1". (Why not the other way around? No reason, other than to remind the fans that the New versions were the ones that mattered now!) This therefore meant that there were two Wonder Women as well, one for each Earth. However, telling exactly when the original's adventures end and the new one's begins, is tricky because her series was never cancelled.
Let's look at the differences between their origins:
In the original version, Wonder Woman begins as Diana, daughter of Hippolyte, Queen of the Amazons of Paradise Island. These are assumed to be the same Amazons from Greek legend, a nation of female warriors. In this version, they moved to the magical Paradise Island (where they did not age) and developed an advanced civilization, in both culture, physical and mental abilities, and even technology! (in the very first story, Diana is shown using a "purple ray" machine that can heal wounds!) So, these are not primitive warriors anymore, they are our betters in many ways! When American pilot Steve Trevor crashes on the island, Diana falls in love with him at first sight (that happened all the time in the old comics.

) The goddess Aphrodite then tells the Amazons that it's time for them to send a champion to "Man's world" to help battle the menace of the Axis Powers (America had just gotten involved in World War II at the time.) The champion will be decided by a tournament. Diana wants to participate but her mother forbids it (biased much?) so Diana, wearing a mask, participates anyway, and wins (question: why would an Amazon be allowed to participate masked on such an important event… and how come Hippolyte never wondered if that was her daughter?) after which Hippolyte has no choice but to let her go. So, Diana becomes Wonder Woman, and takes Trevor back to America. (Another question: why would her costume wear such obvious American symbols on it? Even if the Amazons already knew about America, shouldn't she have sported her homeland's symbols?) This is where the story gets REALLY hard to believe, though: Diana meets an EXACT LOOKALIKE of hers, a nurse named Diana Prince! After saving her life, this lookalike conveniently decides to disappear and allows Diana to take over her identity! Even more unbelievable, she arranges things so she can work close to her love interest, Steve- WHO DOESN'T RECOGNIZE HER AS WONDER WOMAN! I know, I know, Clark Kent syndrome and all that. Let's chalk it to magic and move on.
So, what are the differences between this version and the second one? Well, from what I can tell:
-I'm not sure about this, but the fact that Diana was actually a clay statue of a little girl brought to life by the gods (as a reward to Hippolyte for her faithfulness) was introduced later, to explain how come Diana could have been born in an island with no men. (I guess other options, such as her being the fruit of Hippolyte's dalliance with Hercules, were probably too controversial back then.) So I don't know if it applies to the original WW.
One thing I'm sure of, is that the source of her powers Is different: In the first case, all the Amazons were superhuman due to some training they invented; in the later version, Diana was given her powers by the Greek gods. (However, it was eventually established that ALL Amazons, not just Diana, had these powers! Though only Diana received the Lasso of Truth.) The reason for such "gifts" was not made clear.
-Another major difference: while the original Amazons apparently came to Paradise Island willingly, to form their own, fair civilization, the Silver Age ones were sent there by a goddess (I can't remember if it was Aphrodite or Athena) when Hippolyte prayed to the gods to free them from slavery, in which they had fallen after Hercules tricked her (this is correct in the original myths, btw.) While the gods may have agreed to free the Amazons and empower them, they also required them to wear their metal bracelets as a proof of their submission; If they ever took them off, they would go berserk! Also, if the bracelets were bound together, they would lose their powers (Gee, how nice of the gods, huh? Btw, the original Wonder Woman ALSO had this weakness, though as far as I know it was unexplained. Note; the early WW stories have been accused of having a bondage element to them… and certainly, Diana found herself bound a LOT, and she herself tied up a lot of people! Also, her creator (William Marston, better remembered today as the inventor of the Lie Detector (!) was into some kinky stuff himself (not sure if that included bondage, but he certainly had TWO willing lovers at the same time!) so maybe there was some truth to that…
-As far as I know, there was no Diana lookalike for the second Diana to replace, she just came up with the identity on her own. And she wore glasses as Prince; not sure if the original did.
-The original Wonder Woman eventually married Steve; though this was revealed only after the Earth-2 business was established. The latter Diana… well, it gets complicated. I'll cover that next time.
((Note: comments and corrections are welcome.

))