Originally posted by JiggyMcCue
Aquaman and Spidey? Being a Spidey fan, not only am I biased that Spidey would destroy that puny sea cucumber, but basic facts and logic point towards it. Need I say all of them? I didn't think so.

Well it depends on the playing field.
If it's in the city, then Aqua is a fried fish. However if it's near water, like the aircraft carrier in the ocean mentioned earlier, then Spidey is as dead as a bug in water.
BTW, am I the only one amazed that somehow Aquaman changed form this: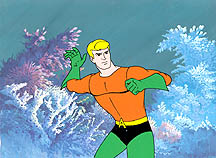 to this:
Thats quite a ratical change.