Yep, I'm back with another of my comic book retrospectives. I need to write SOMETHING, so while my fanfiction ideas congeal again, I'm doing another retrospective since they seem to be popular here. That, and I love to steal d Galloway's ideas. (Juuust kidding d!

)
Anyway:
Quick: mention four Batman villains.Easy enough, right? The Joker! Catwoman! The Penguin! The Riddler! And I bet you can think of even more. They're pretty well-known.
But try naming Superman villains: Everybody always says LEX LUTHOR!! Yeah, but who else? "Er, the robot guy. Brainiac or something. And the kryptonians guys, you know, from the second movie… wasn't there an evil duplicate too…?"
Why are Superman's enemies not so well known? He's been around since 1938, he's certainly fought a LOT of villains. You'd think they would be more famous. Heck, kryptonite is better known than most Superman villains!
Let's take a look at the enemies cooked up to oppose the Greatest Superhero of All Time across the decades, and see if we can determine why they're not as well known as he is.
Let's start with the very FIRST Superman enemy: NO, not Luthor (though he was one of the first) but rather, the vile, fearsome Ultra-Humanite!!
…
…
… Who?
See what I mean? Who even knows today (other than comic book fans like me

) who that is supposed to be?
Actually, Ultra only fought Superman a couple of times (twice I think) and then faded into obscurity for decades, until the 1980s. He's actually better known as a foe of the Justice Society of America (the FIRST superhero group, predecessors of the Justice League.)
However, Ultra still deserves recognition for being (possibly) the FIRST supervillain ever, as well as (if my theory is correct) being based on the original concept for Superman himself: as an evil, telepathic mutant!
What, you didn't know that!? Yeah, Superman was originally meant to be a VILLAIN! No, seriously. See here:
"Reign of the Superman" was a short story by writer Jerry Siegel and artist Joe Shuster, in 1932, six years before their other version of the character (the one we know today) was published. Apparently, they were interested in the concept of humanity's possible future evolution (it was a common theme in SF magazines and novels of the time) so their first version was a Superman who was mutant with incredible mental powers who tried to take over the world. This is almost completely the opposite of their second take, which is said to having been influenced by the novel "Gladiator" (no relation to the movie

) which was about a superstrong man trying to be accepted by modern society. While the Gladiator character fails and dies, Jerry and Joe apparently decided that having such a person succeed would be cooler, and the rest is history.
Now, I've never seen any actual evidence that Ultra-Humanite was based on the evil Superman, but I think it's a good guess. Like him, he was a bald mutant with great intelligence and mental powers. The name is obvious a derivative. He was also a cripple, which explains why he invented a brain-transplant process and had his brain transferred to… an actress's body?? O_O
And if you think THAT was weird, check out what else he transplanted himself into in later stories: a giant subterranean insect (!!) and eventually, a white gorilla! He's kept the ape body ever since. I guess he liked it. (You may have seen the ape version of him in the Justice League cartoon.) Ultra is also known as "the man who saved Hitler's brain!!" (by implanting it into the body of a superhero, Dynaman) as seen in the (rather cool, but apparently non-canonical) DC comics miniseries, "The Golden Age." (Ultra himself stole the body of Mr. America, another DC hero, in that story.)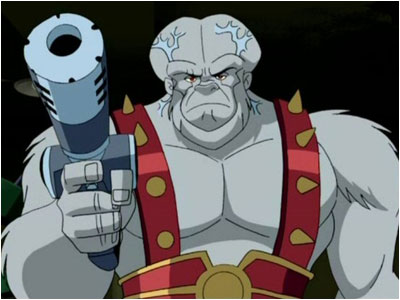 And no, I have no idea what a "Humanite" is supposed to be. Why didn't he call himself Ultra-Man or Ultra-Human? Where they copyrighted already?
Anyway, as mentioned above, Ultra is pretty obscure, and since mental combat is not Superman's forte (except for his superhuman will power) I guess Ultra does not really make a good enemy for him. Plus, he was into being women and animals. Too freaky.

Next: We get to Superman's OTHER bald foe: Lex Luthor!!