This thread seems sort of fresh as I don't recall many recent threads about the FF merchandise.
Anyways, today I purchased a figure from the Final Fantasy Master Creatures Set. It is of Yojimbo, the summon from Final Fantasy X. Despite it's size (4 inches in height) it is detailed very well and depicts a striking pose of the Zanmato attack. I rather like the size as I don't have to make room for it. It sits nicely on my TV with Godzilla and the Alien queen. I plan on purchasing the Gilgamesh figure sometime soon, as he is my favourite character from the series and I recently found out he was was released here in the third wave.
Here's a photo of the Yojimbo figure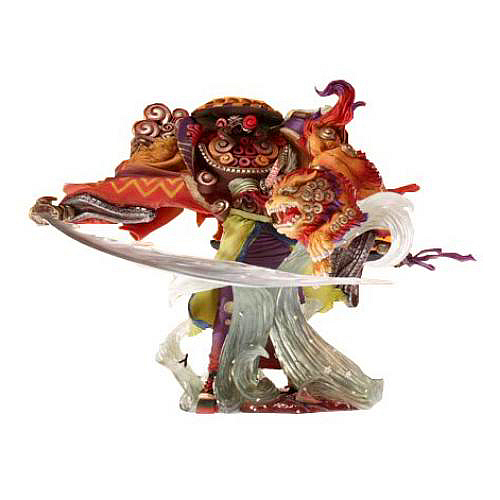 So far there have been three waves:
First Wave
Bahamut (FFVII)
Magus Sisters (FFX)
Leviathan (FFIX)
Ifrit (FFVII)
Kefka (FFVI)
Second Wave
Yojimbo (FFX)
Mateus the Corrupt (FFXII)
Odin (FFIX)
Diablos (FFVIII)
Knights of the Round (FFVII)
Third Wave
Shiva (FFX)
Pheonix (FFIX)
Gilgamesh (FFV)
Anyways, anyone else here collect figures? And by collect I don't strictly mean in an all encompassing sense. One or two figures counts just as much as collecting a whole series. There are a lot of well done figures, and I can't be the only person here who has figures (or toys if you prefer to call them that).