[b]UNICRON
VS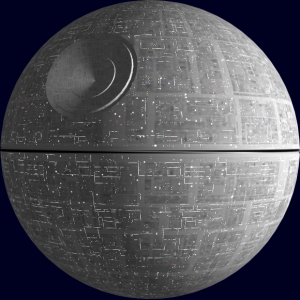 THE DEATH STAR![/b]
Put a fully-manned and operation Death Star in space against a not-dead Unicron. Now personally I think Unicron has the advantage here. Can you imagine the Death Star trying to shoot him?
Vader: KSSSSSHK Fire the huge lasery weapon!
Underling: Er… the huge robot has moved away Lord Vader!
Cader: KSSSSSHK I find your lack of faith disturbing!
Underling: chokes
I mean, the Death Star has the biggest gun in existence, but Unicron eats planets. No amount of Force-usage is gonna get The Emperor out of this one. Unicron also has a complete lack of trenches and exhaust ports. On the other hand the big guy got defeated by a robot that turns into a truck fer chrissake, powered by some weird energy source in a shiny shiny matrix, which could have been the TF equivalent to the force, in which case Unicron would be pretty much screwed.
Thoughts? Opinions? Suggestions to shut the hell up?