ASK HIM A QUESTION! I'll start… ahem…
WHY IS YOUR HEAD SO BIG?
BECAUSE THE REST OF MY COCK IS
Steve once said that we were going to play a game of hide the sausage, and I thought it sounded like a fun game! Kinda like hide and seek with sausage, right? But then what Steve showed me wasn't a sausage at all, and I knew where it was. Not only was the name misleading, but it hurt and he squirted magical milk on my back. My question is this: why, Steve… why?
It seemed fun and fanciful at the time.
You shouldn't be looking at that. Especially at your age.
Is it wrong to peel all of it?
Do you have any mental afflictions?
I'll answer these questions, Steve. I made the thread.
If we ever play D&D again, my character is going to sleep with your character.
That's not a question, that's a promise.
Was Jenna really you in a disguise?
Most scabs are bad to peel if they're not completely done with scabbing. They bleed again and the process starts all over.
Not really.
College + work = not much time for other stuff.
Me. I have jeans.

That's like asking if anyone gives a shit about you. (Of course not!)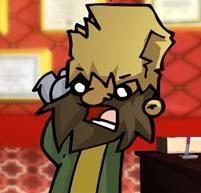 Shteve, why won't you get off the line?
Do you still fiddle around on your guitar every now and then?
Do you still fiddle around on your- gets banned