I don't know about you, but I'm sick of looking at the default vbulletin logo. So I propose a logo contest to replace it!
Rules:
Submissions must be embedded, linked or attached in this thread before April 30th, 2011, 23:59 EST.
Logos should be 155px x 45px to easily replace the current logo. If admins are willing to accommodate different image sizes, this rule can be changed.
Winning logo will be chosen by a public poll which will be open from May 1st to May 15th.
Winning logo is subject to approval by the mods and admins.
Logo entries must be compliant to all forum rules (no tentacle rape, sorry).
This contest has not been approved by any mods or admins, so if you win, I can't guarantee it will be used.
Here are some old logos for a starting point: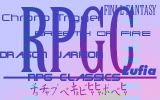 C'mon RPGC, let's give it our best shot!