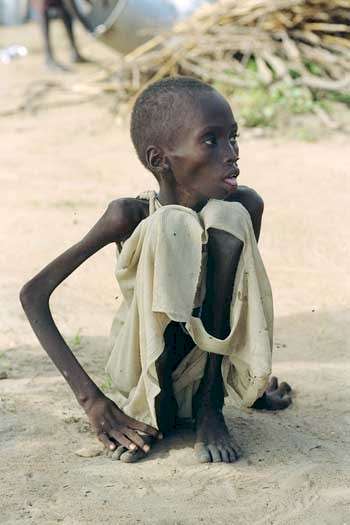 Not to disrespect the passing of a spoiled upper class American pop-metal singer responsible for robbing the fucking pants off every kid who's never heard Paul Gilbert, but I figured if Dio deserves a thread for dying, I may as well pay tribute to some of the people who lived and died in humble obscurity as a result of his belief that hoarding millions of dollars to fuel his half-assed musical endeavors and materialistic lifestyle is more important than paying attention to the rest of the world's suffering.
So, here's to the most not-disturbing-to-look-at starving kid in rags I could find a picture of on google, who, in feeding the nearby wildlife with his almost-meatless corpse, contributed more to the world than Dio could in a hundred lifetimes.
R.I.P. kid who was stalked by vultures for days before being devoured. We hardly knew you.