Gamespot picks for the Top 10 Final Fantasy Games of All Time.

No.4 – FFVII Snowboarding!
No.1? Dragon Warrior for NES! Ha-ha.
Final Fantasy VII remake announced

Press Release:
TOKYO, Japan. (March 31, 2006) - Square Enix Co., Ltd. (Square Enix), announced today that they have entered into an exclusive agreement with Microsoft Corporation (Microsoft) to bring the highly anticipated FINAL FANTASY® VII remake to the X-box 360™ games console. The original FINAL FANTASY® VII, first released in 1997 for the Sony PlayStation®, has sold 9 million copies worldwide and will be brought back to life as the final piece of the COMPILATION of FINAL FANTASY® VII.
RPGamer did it last year, but here we go again: FFVII EC
http://www.adventchildren.net/fullstory.php?subaction=showfull&id=1143859600&archive=&start_from=&ucat=35&
Some nice pics to support the story:
http://img436.imageshack.us/img436/1125/up02847mn.jpg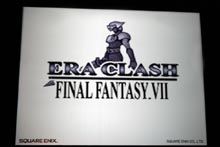 I thought this dude's attempt at FF humor deserves a sequel or a spin-off:
You wanna do the rest? …